The 2nd Finnish Chinese Science and Technology Forum was successfully held by CASFT
Opportunities and Challenges for Chinese Finnish High-Level Professional Talents
In order to promote the exchange and cooperation in the fields of innovation and entrepreneurship in Finland, the platform for cooperation between Chinese and Finnish scientific and technological personnel and enterprises was established. On August 20, 2016, hosted by the Finnish Chinese Science and Technology Association, The second session of the Chinese Science and Technology Forum, organized by the Finnish Liaison Office and the Chinese Students and Scholars Association of the University of Helsinki, was successfully held at the large conference hall of the design plant of the University of Aalto, Finland. The theme of this forum is the Finnish Chinese high-level professional talents in the opportunities and challenges. Forum attracted a total of nearly a hundred Chinese and Chinese government officials, high-level student scholars, business practitioners representatives to participate in this year's Finnish Chinese science and technology field of a major event.
First of all, Ms. Yao Wenying, the host of the forum, invited Dr. Xu Junhua, President of the Finnish Association of Chinese Science and Technology, and President Xu expressed his warm welcome to all the participants. We thanked the conference support units and the participants for their participation in the preparation and participation of the conference. , But also to explain the theme of the forum, looking forward to the forum for high-level academic exchanges to provide a platform for enterprises in China and Finland to build a bridge, while entrepreneurs and investors to create opportunities for cooperation.
The theme of the forum is divided into three sections for policy advocacy, technical application and investment and entrepreneurship, respectively, by the Finnish Investment Promotion Agency China project team consultant Miss Chen Shiu, Finland Earth Space Research Institute R & D manager Dr. Chen Yuwei and Zhongguancun Management Committee Mr. Zhu Ziqi, Director of the Liaison Office in Finland. Ms. Zhang Qian, Director of the China International Talent Exchange Association in Germany, Mr. Zhu Zizi, Director of the Liaison Office of the Zhongguancun Administrative Committee of the State Council of the Republic of China, Helsinki Economic Affairs Bureau Ms. Zheng Qiongfang, Head of Planning and Publicity of the Service Department, Ms. Tao Fanglan, Director of the International Affairs Department of the Mayor's Office and Ms. Li Juan, Project Manager of the Fenghua Yingcai Association, were invited to give a report on the introduction of talent and entrepreneurship policy. They are from the government level, the regional level and enterprises at the level of China and Finland, the introduction of talent, technology research and development and innovation and entrepreneurship-related support policies for a wonderful explanation and analysis. The section provides delegates with comprehensive and authoritative policy information, with frequent interaction with delegates and enthusiastic discussions.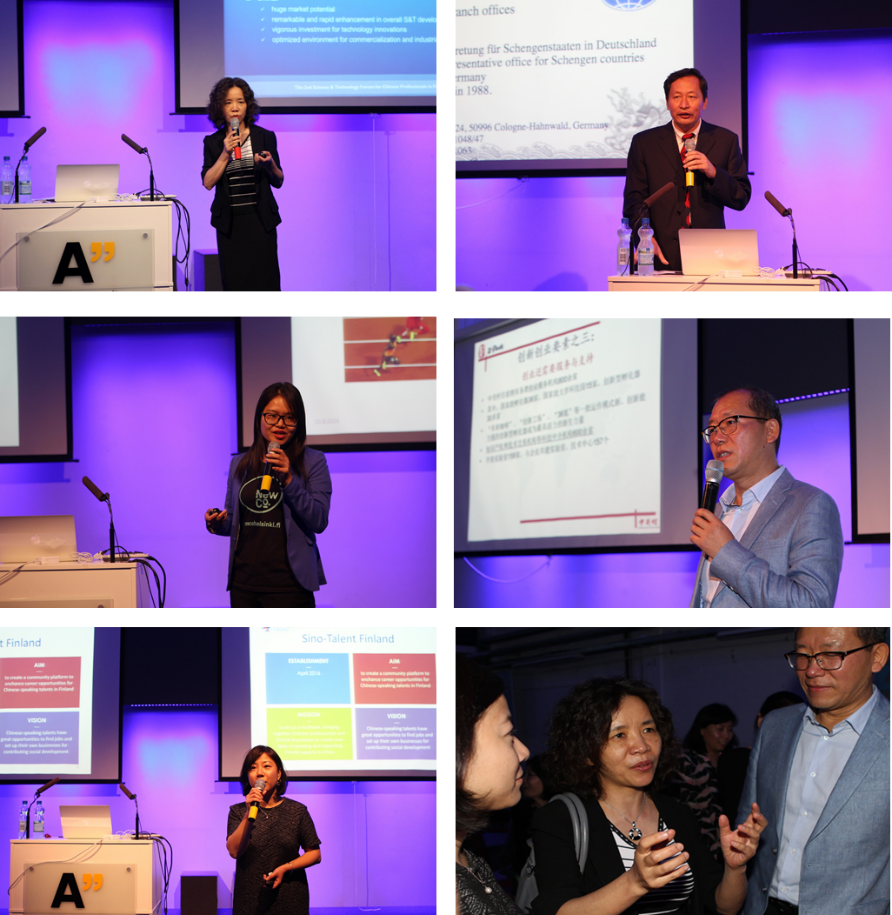 From the perspective of central government, regional government and enterprise, they gave a wonderful and fantastic explanation and analysis about talent introduction, technology R&D and related policy support for innovation and entrepreneurship between China and Finland. This section provided comprehensive and authoritative policy information for the representatives. Also, the representatives and the guest speakers interacted frequently and discussed warmly.
In the technical application section, Manager Chen Yuwen from Finnish Geospatial Research Institute R&D Department firstly presented his latest study about developed Laser Radar Charting Technique and Application to all the representatives. This report covered a wide range from R&D, application, academia to business, receiving a lot of approbation and attention. Then, vice-president Jari Angesleva from Eficode Oy quickly attracted audience's interest with a vivid and humorous presentation, which promoted digital reconstruction and IOT (Internet of Things) application and elaborated explicitly about his company's business potentials and advantages. Aimed at currently domestic problem of PM2.5 air pollution, Dr. He Guoyou has developed a compound dust suppression material used in urban roadway, and he made a deep discussion of its development and use in his speech. President Lin Lanchen of Finnish Senior Expert Association introduced a new dry gravity process technology and its strengths combined with his upcoming tailing disposal program, getting a lot of applause for his opinions about adopting different strategies in different markets. Vice-president Chang Jiahua from A-Flex Materials Oy shared his own experiences as a mentor of young startup entrepreneurs. His entrepreneurial idea about connecting Finnish technology with Chinese market was well-received.
In the investment and entrepreneurship section, Chairman Zhang Haitao from Shangdong Huashuo Power Technologies Co. Ltd. at first stated the urgent need for high level talents and developed technology in China, and then elaborated his expected areas of investment cooperation in Finland. Consultant Cary Kilpinen from CQ Universal Co. Ltd. explained Finnish business environment and business model to the representatives and his presentation involving many successful Finnish business cases was thought-provoking. Manager Samuli Pyy from Magnusson Law Firm's China Office introduced necessary approval processes and related legal issues of establishing businesses in Finland, which provided the important information for those representatives who were intended to launch business and conduct cooperation in Finland. Finally, young entrepreneur Mr. Dong Junru, taking his own entrepreneurial experience as an example, discussed with audience about the real entrepreneurship.
In the end of this event, Dr. Xu Junhua, President of Chinese Association of Science and Technology in Finland (CASTF), and Chairman Zhang Haitao from Shangdong Huashuo Power Technologies Co. Ltd., signed cooperation letter of intent, which focused on strengthening bilateral technology exchanges and cooperation in the future. Eventually, President Xu expressed his sincere thanks to the sharing and support from guest speakers and sponsors, as well as to the continuous trust and contribution from all the members of the association. 'Without all these efforts, association couldn't develop rapidly and build up a solid foundation for the further richer activities. I hope everyone got good results from this event', he summarized.
Author: Longgong Xia
Audit: zhu ziqi, Junhua Xu
Photo: Xinhua News Agency in Finland, Jizhi Li
CASTF, Gao Ruip