About CASTF
The Chinese Association of Science and Technology in Finland (CASTF) was registered in Helsinki in 2014. The official Chinese name is '芬兰华人科技协会' and Finnish name is 'Kiinalainen tiede ja teknologia yhdistys ry'.
CASTF currently has about 200 members. Over 80% of them are Ph.D. candidates and Ph. D. degree researchers, mainly from the University of Helsinki, Aalto University, Finnish Research Institute, Finnish Companies and Chinese-funded companies. Among the members, over 80% have immigrant background.
Vision
The vision of CASTF is to promote the cooperation and development in the fields of science and technology, education, culture, economy and trade between China and Finland. Meanwhile CASTF aims to promote Chinese traditional culture and promote the mutual understanding between people from both nations and promote the unity, cooperation and communication between Chinese and Finnish scholars and professionals. CASTF holds academic seminars and provides a platform for academic exchanges for members. We will continuously support scientists, scholars and highly educated Chinese to integrate well into Finnish Society and working environments.
Organization
XU Junhua (Juha)
Chairman
junhua.xu@castf.org
Ph.D from University of Helsinki, Precious metals recycling
The member of European Rare Earth Magnet Recycling Network; Research intern in Umicore, Olen, Belgium; Researcher in Chalmers university of Technology, Sweden; Researcher in Sinopec Safety engineering Institute, China.
LUO Wei
Director of Secretariat
wei.luo@castf.org
Ph.D from Aalto University in 2014, Illumination Engineering and Electrical Building Services
With over 10 years research and work experiences in building and lighting technology, working on human centric lighting in smart city and smart building projects; serving in Finnish companies which help with international collaboration and business development especially between Finland and China.
HE Guoyou
Deputy Chairman
Director of Incubators
guoyou.he@castf.org
Pre-Doctor (Helsinki University of Technology, Majors: Mining Technology and Economics, Networking Technology and Telecommunication Software).
Founder of Noveteks Oy, Senior Expert of Zhongguancun Alliance for China-Europe International Technology Cooperation. Previously worked as researcher of Mineral Processing and Recycling Laboratory, Helsinki University of Technology; Senior Software Specialist of Nokia.
CHEN Yuwei
Deputy Chairman
Director of Science and Technology
yuwei.chen@castf.org
Ph.D from Chinese Academy of Science, Shanghai Institute of Technical Physics,D.Eng candidate of Department Computer Science, Aalto University
Designed the echo detecting sensor for laser range finder of Chang'e - China first moon-explore satellite. Prototyped the first airborne pushbroom laser scanner in China, the world first hyperspectral LiDAR with a supercontinuum laser source in Finland, and the world Mini-UAV borne FMCW radar in Finland.
ZHANG Hongbo
Deputy Chairman
Ph.D from Faculty of Pharmacy, University of Helsinki
Has a multidisciplinary background in pharmacy, nanotechnology, microfluidics, precision medication, and molecular biology. Assistant Professor in Åbo Akademi University; Guest Professor in Shanghai Jiaotong University; Visiting Scholar in Harvard University.
GAO Bin
Director of International Communication
bin.gao@castf.org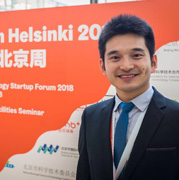 Master of Logistics Management, Metropolia University of Applied Science
Worked as a branch manager in Debang Logistics Company and was in charge of opening new branches, Marketing, developing and maintaining regional customers and supervising the daily operation, etc.
Worked also as an assistant of general manager in Fengqiao Trade Group and was in charge of key projects development and negotiation, such as Haisheng Trade and Logistics Park and Wangmuhu Eco-tourism Park.
GUO Ming
Director of science and education center
ming.guo@castf.org
Doctoral student in Department of Chemistry at University of Helsinki
MSC in Shaanxi Normal University affiliated with MOE, China; Participated in Shaanxi high school examination for students from various schools, secondary school competitions and other large-scale examination marking work; Designated as a teacher in one key senior school of Xi'an; Trained in Huanggang High school for education research and study; Occupied in large-scale and listed counseling education agencies like New Oriental Education & Technology Group, NYSE:XUE etc.
Sissi XU
Director of Public Relations Management
sissi.xu@castf.org
MBA student at Aalto University
Working for Finland Cultural center of the Espoo city. Been working for multicultural and administration in Finland other city.
Like promoting and development Chinese- Finnish culture, Science & technology exchanges, Economic and Trade etc. international cooperation.
Amy ZHANG
Director of International Affairs
Master of Fine Arts
Bachelor of Management
Bachelor of Economics
Currently engaged in integrating educational resources and exchange between Finland and China. Providing consulting service for the Finnish government and companies. Actively promote education and culture and technological exchanges and cooperation between Finland and China.
YAN Dongni
Director of News Department
Master's degree from University College London
Mainly responsible for the operation of the WeChat public account, press release and writing part of the press. She is currently working at Etteplan and is a technical analyst in the marine engineering department. She is responsible for two aspects: finite element analysis of ship structure, ship theory and stability research and development. During her work, she was also appointed as a teaching assistant at the Aalto University, Marine Technology, and was assigned to ship design company, such as Deltamarin.
GAO Rui
Deputy director of Finance
rui.gao@castf.org
Ph.D candidate in Department of Electrical Engineering and Automation, Aalto University
Interests: Optimization methods, image fusion and debluring